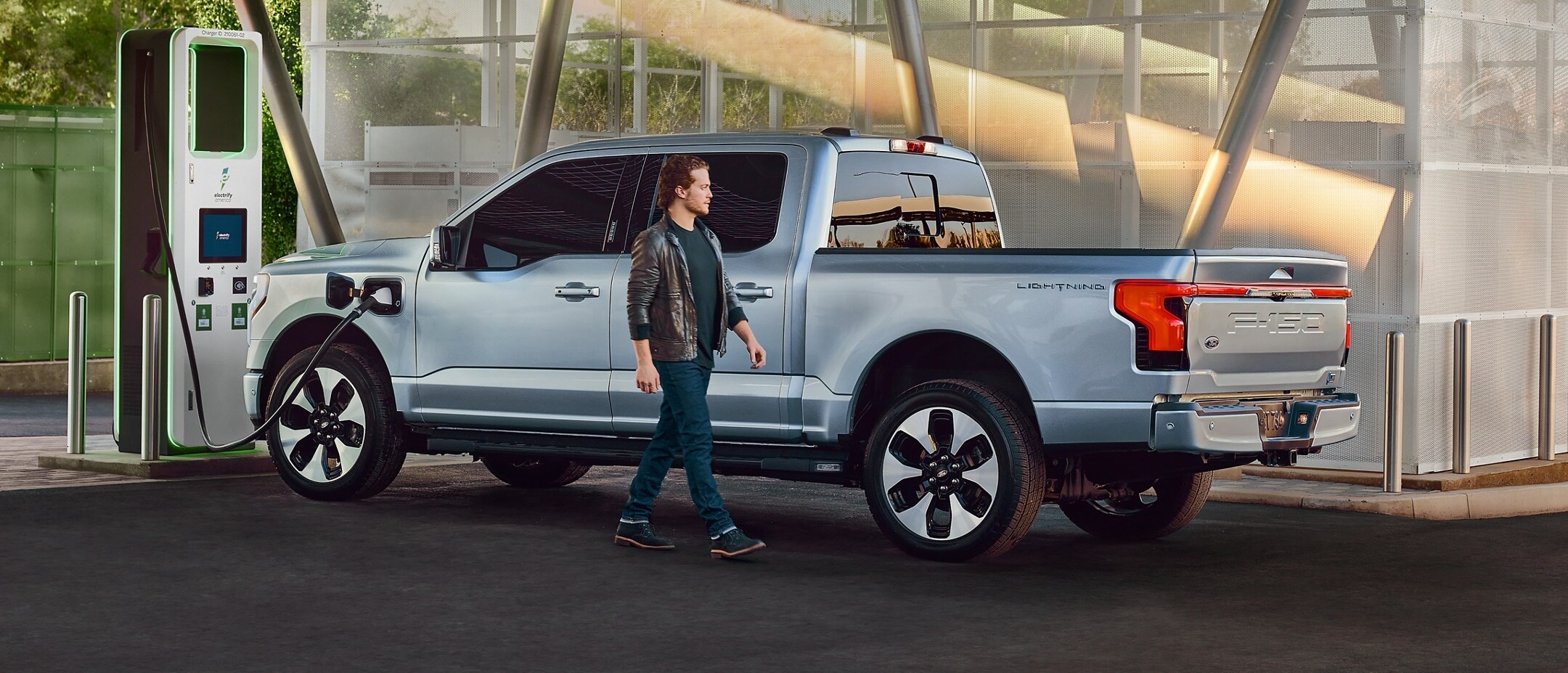 WE'VE GOT CHARGING COVERED
Backed by the largest public charging network in North America, we offer a variety of charging solutions to meet all your charging needs. The extended-range battery comes standard with the 80-amp Ford Charging Station Pro. This allows a peak charging power of 19.2 kW enabled by the battery's dual onboard chargers meaning a full charge overnight. Like all Ford electric vehicles, every series comes with the 30-amp Ford Mobile Power Cord, allowing you to charge from a traditional 120V or a 240V NEMA 14-50 outlet. No special stations needed.
STANDARD RANGE INCREASED TO EPA-ESTIMATED 240 MILES
Starting this fall, vehicles built with the standard range battery, available on Pro, XLT and Lariat trims, will have a targeted EPA-estimated range of 240 miles - up from 230 miles.
F-150 Lightning customers can choose two new colors among the 10 available options - Avalanche Gray and Azure Gray metallic tri-coat. Those colors replace Atlas Blue, Ice Blue Silver and Smoked Quartz Metallic, which are not available on models built starting this fall.
LARGEST FRONT TRUNK OF ANY ALL-ELECTRIC PICKUP
With 14.1 cubic feet of cargo space the F-150 Lightning has the largest front trunk of any all-electric pickup. And with up to 400-lbs. of payload capacity, it can carry eight 50-pound bags of concrete mix.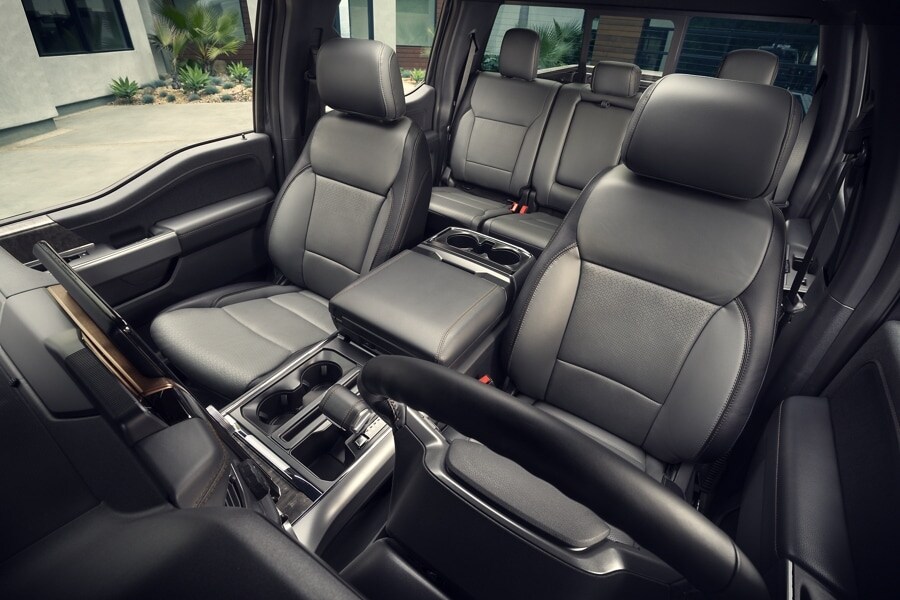 SEATS UP TO 5 PASSENGERS
Your turn to drive the ride-pool? Heading out with friends? Taking the family on a weekend adventure? No sweat. F-150 Lightning has room to seat 5 passengers comfortably.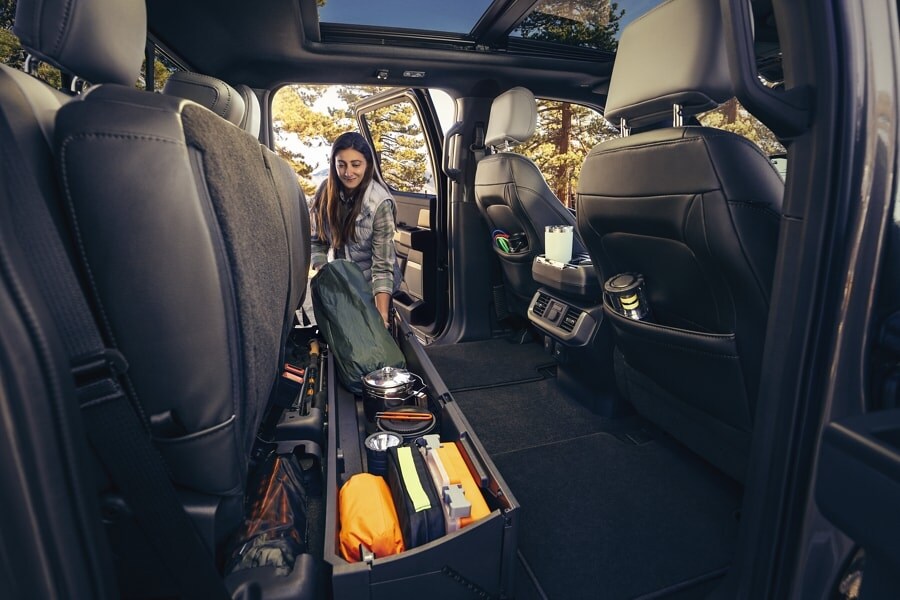 EASY ACCESS STORAGE
The rear seat flips up easily, allowing you to stow lots of gear conveniently and securely underneath. Built-in dividers keep everything organized and in place.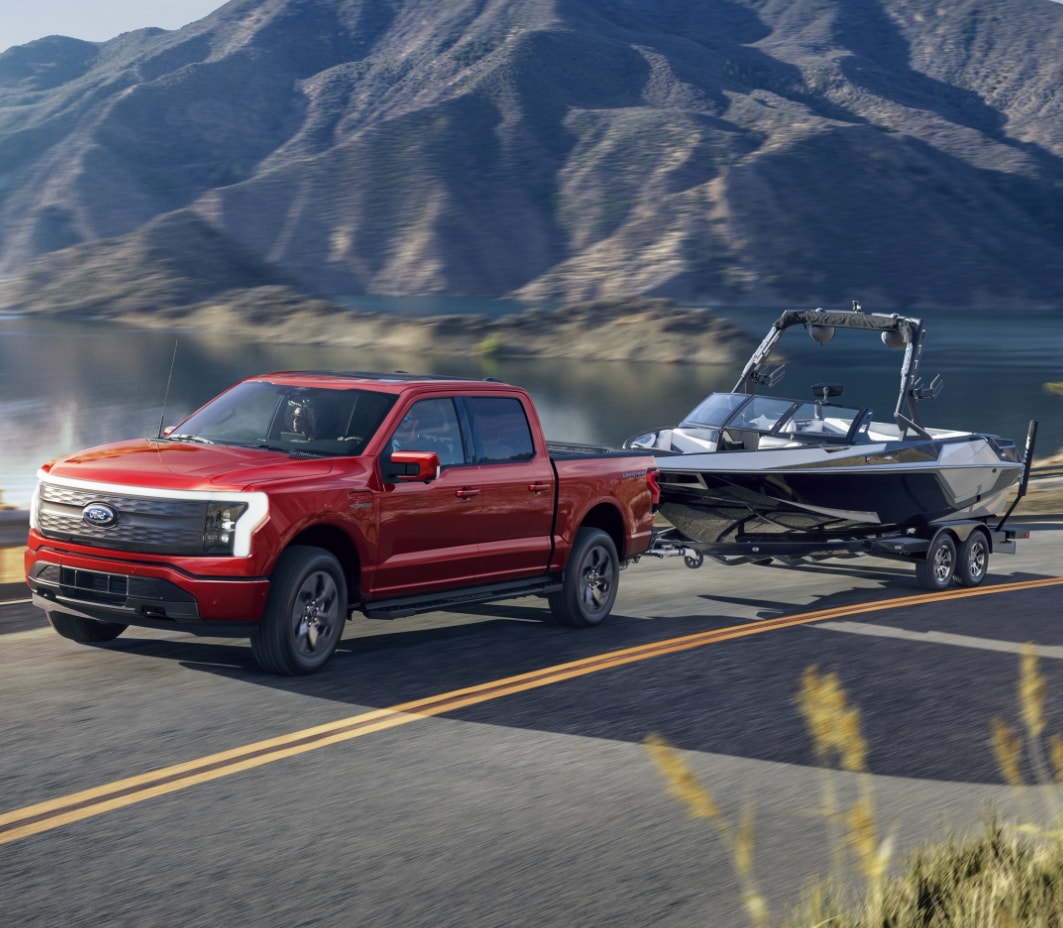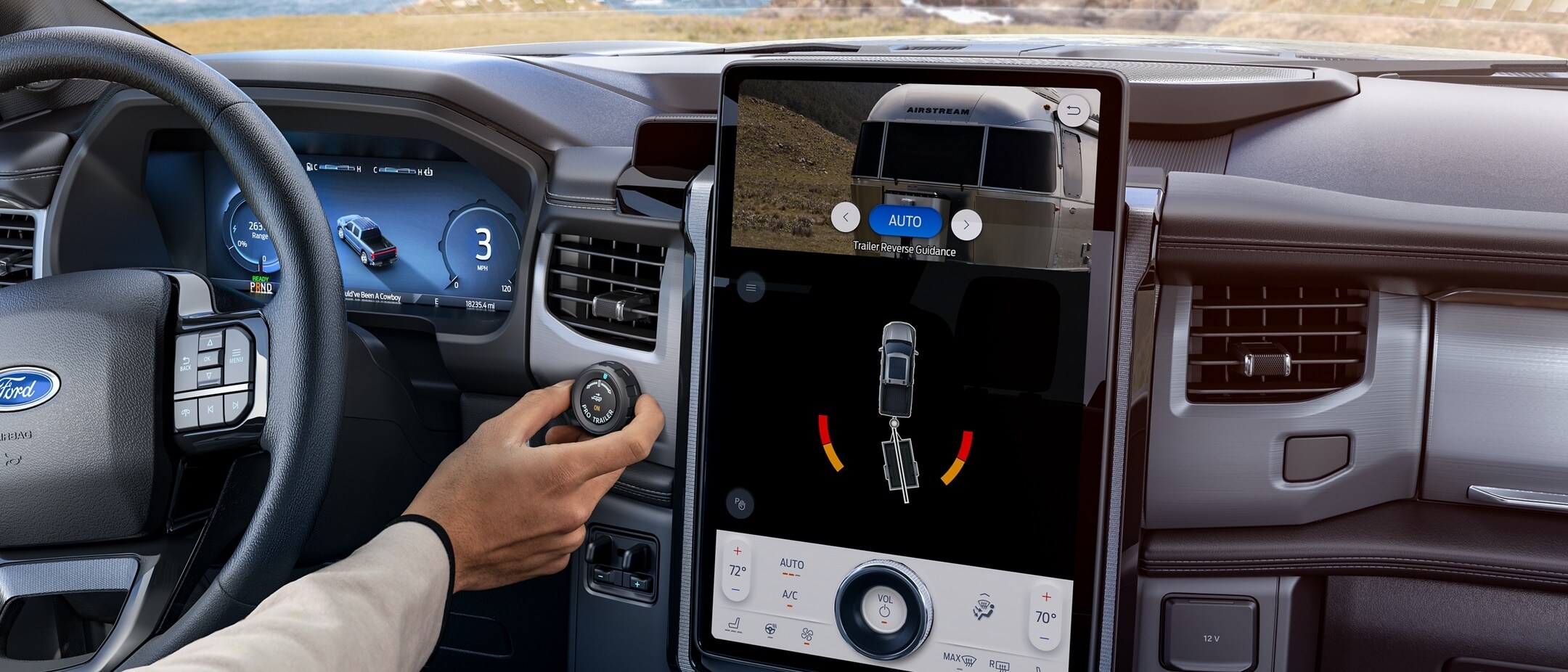 BACKUP ASSIST
Backing up is now as easy as turning a knob. Just enter a few measurements into the system. The camera tracks the trailer while you back up and guide it. Rotate the knob left or right in the direction you want the trailer to go while the system controls the steering wheel.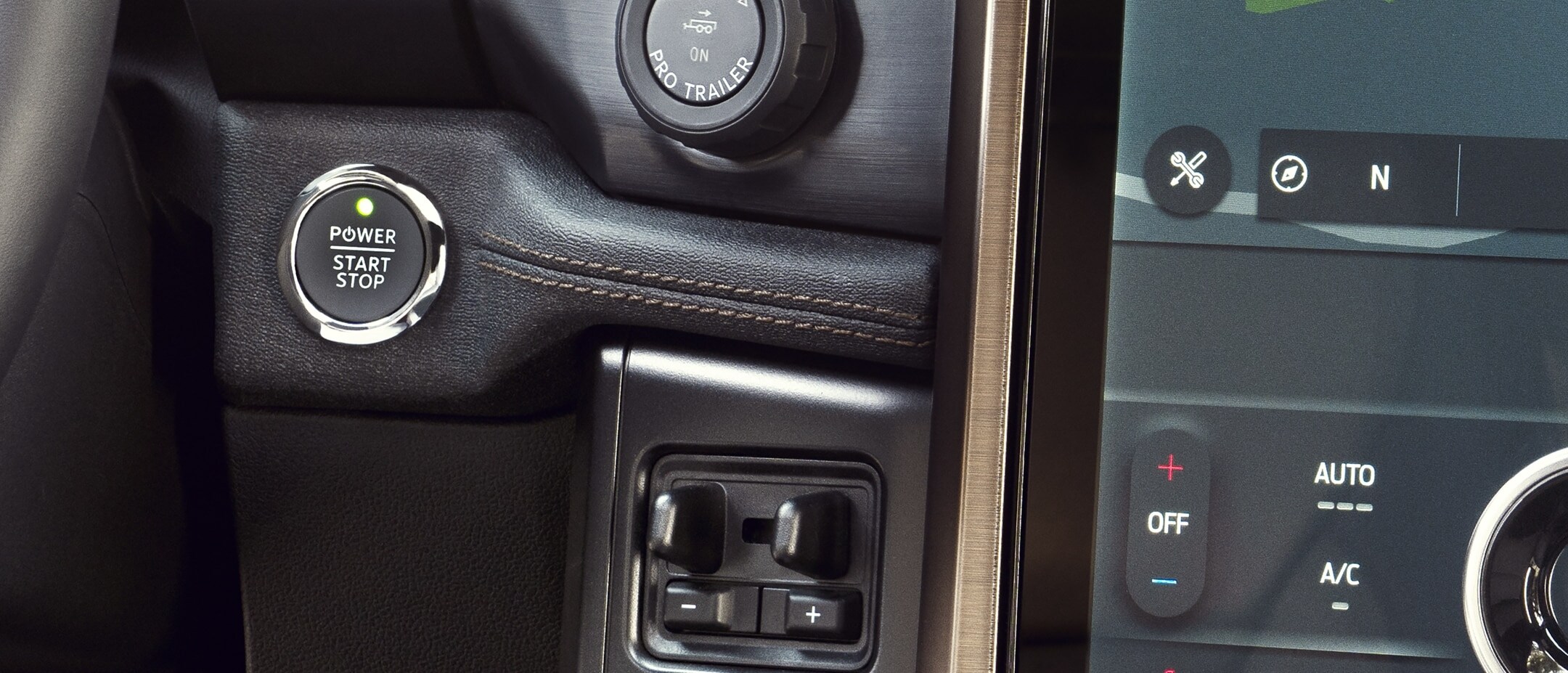 TRAILER BRAKE CONTROLLER
Automatically applies the trailer brakes when you press yours. Manually adjust and control the amount of power sent to the trailer brakes with the TBC controller mounted on your center console.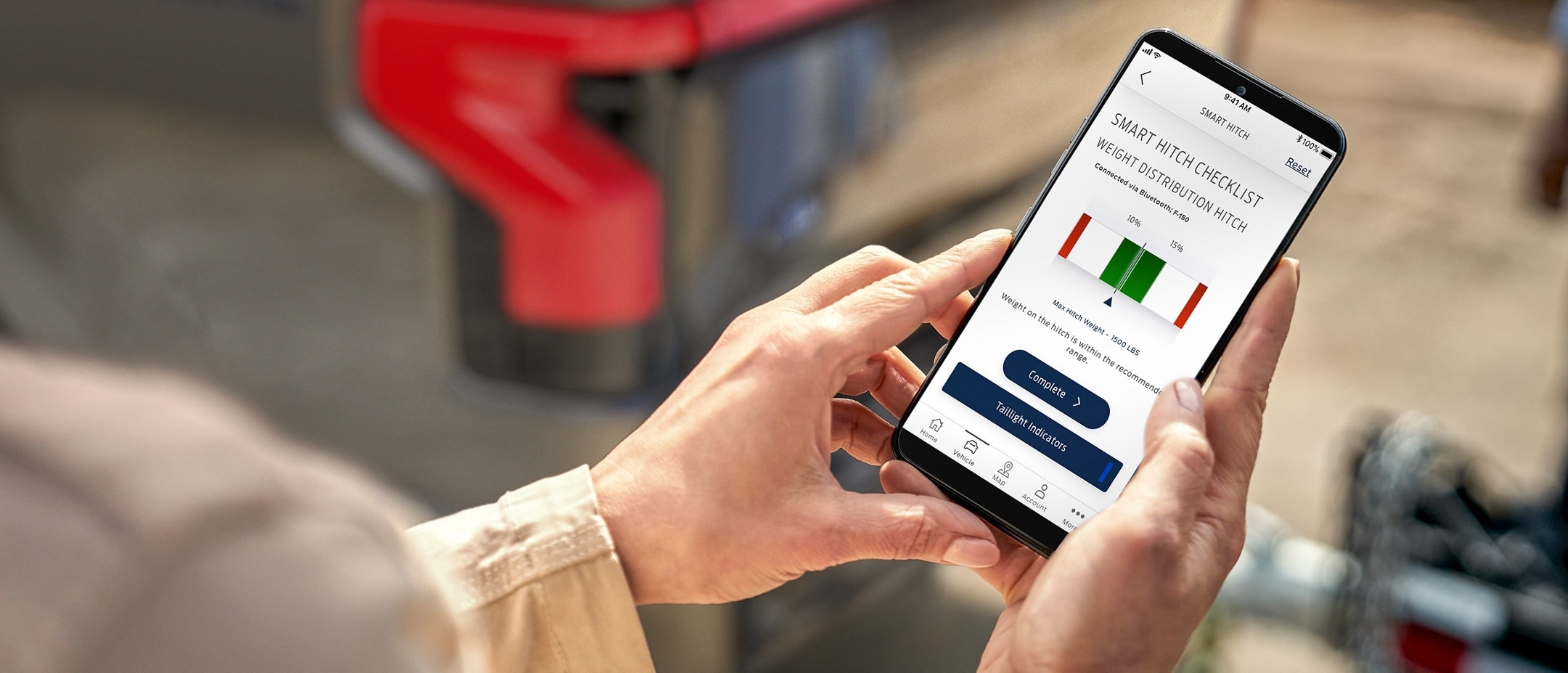 SMART HITCH
It measures the tongue weight of the trailer through the connection process. Calculating the appropriate weight, it guides weight distribution onscreen with the FordPass App or on your SYNC screen.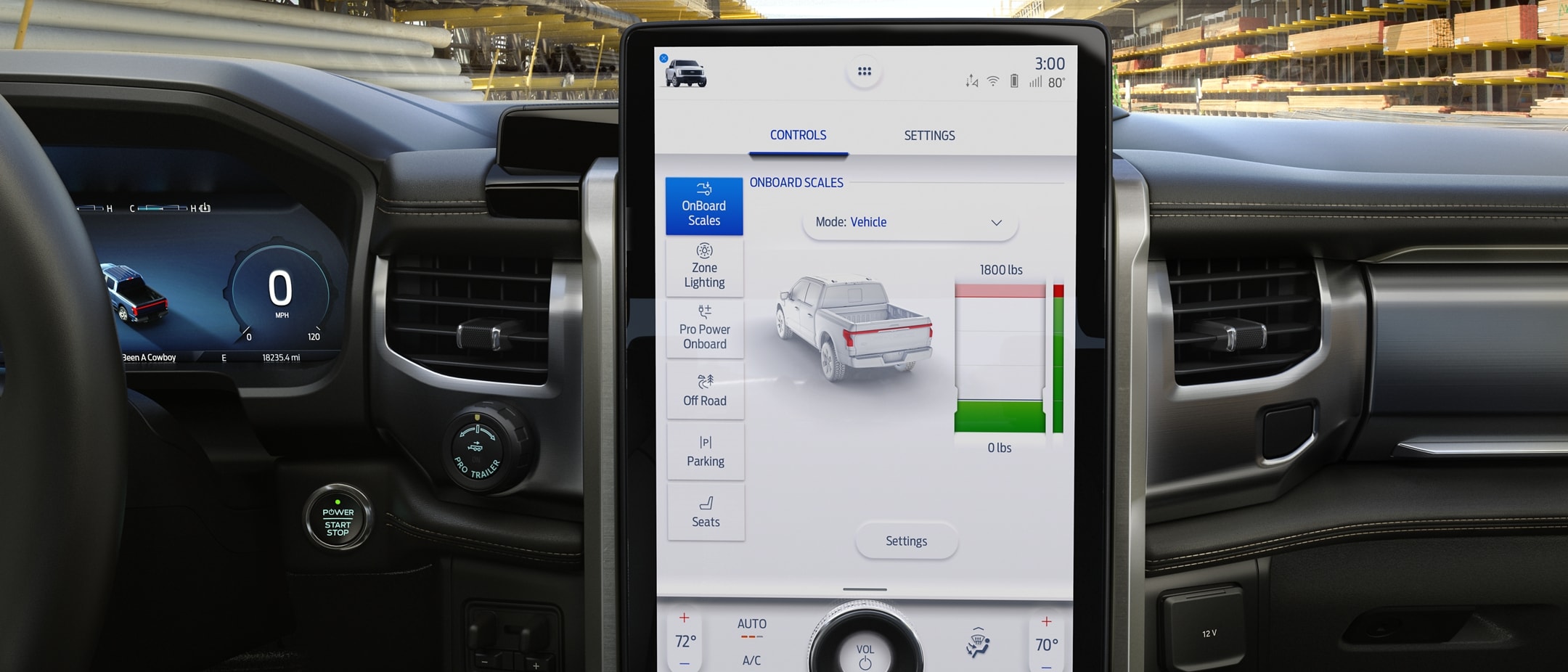 ONBOARD SCALES
Load information is displayed in the center touchscreen, on a mobile phone through the FordPass App or in graphics within the truck's smart taillamps. This way you know what you're carrying doesn't exceed the recommended weight capacity.
ENHANCED PRO POWER ONBOARD
Just plug 'em in and let 'er rip. From the jobsite to the campsite, this convenient feature provides on-site, on-demand power for tools, electronics, appliances and other electric devices.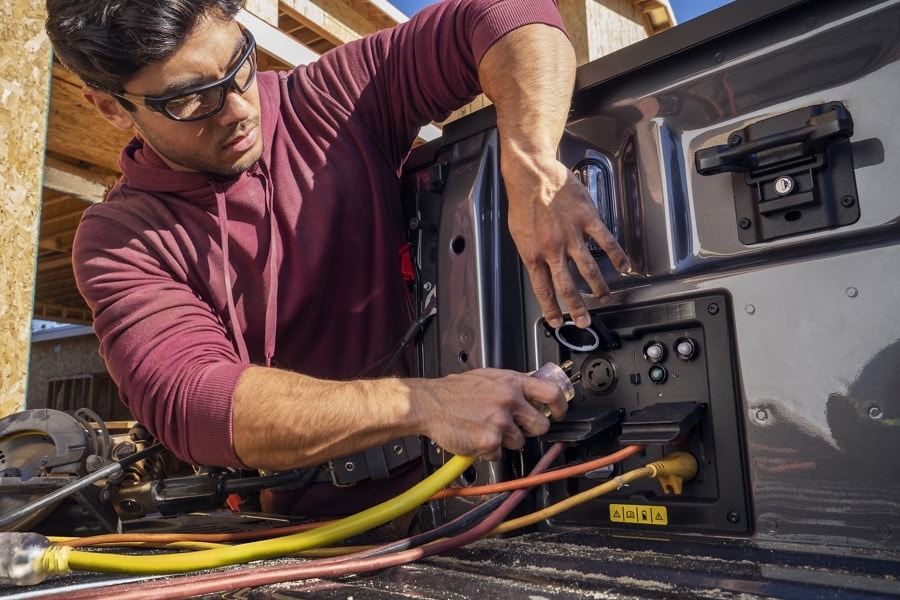 AVAILABLE 9.6 KW POWER
Be the talk of the tailgate. Pack along some conveniences camping. Plug-in a few power tools. With this much power your F-150 Lightning is up to the task.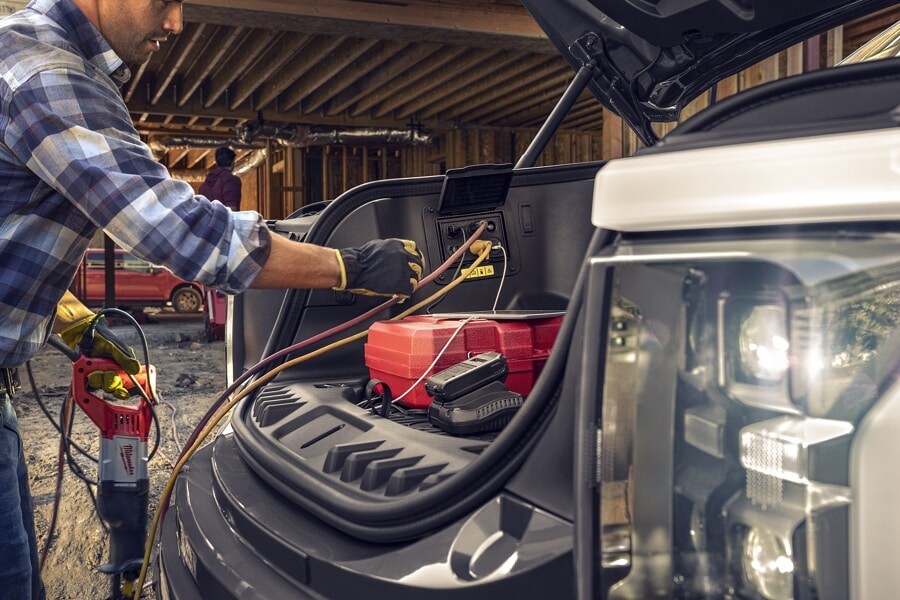 BUMPER-TO-BUMPER OF ADDED POWER
It offers 11 convenient power outlets. There are two 120 V outlets in the cab, four in the bed and four in the Mega Power Frunk, which also has a USB-C and USB-A. A 240 V outlet is available for the bed.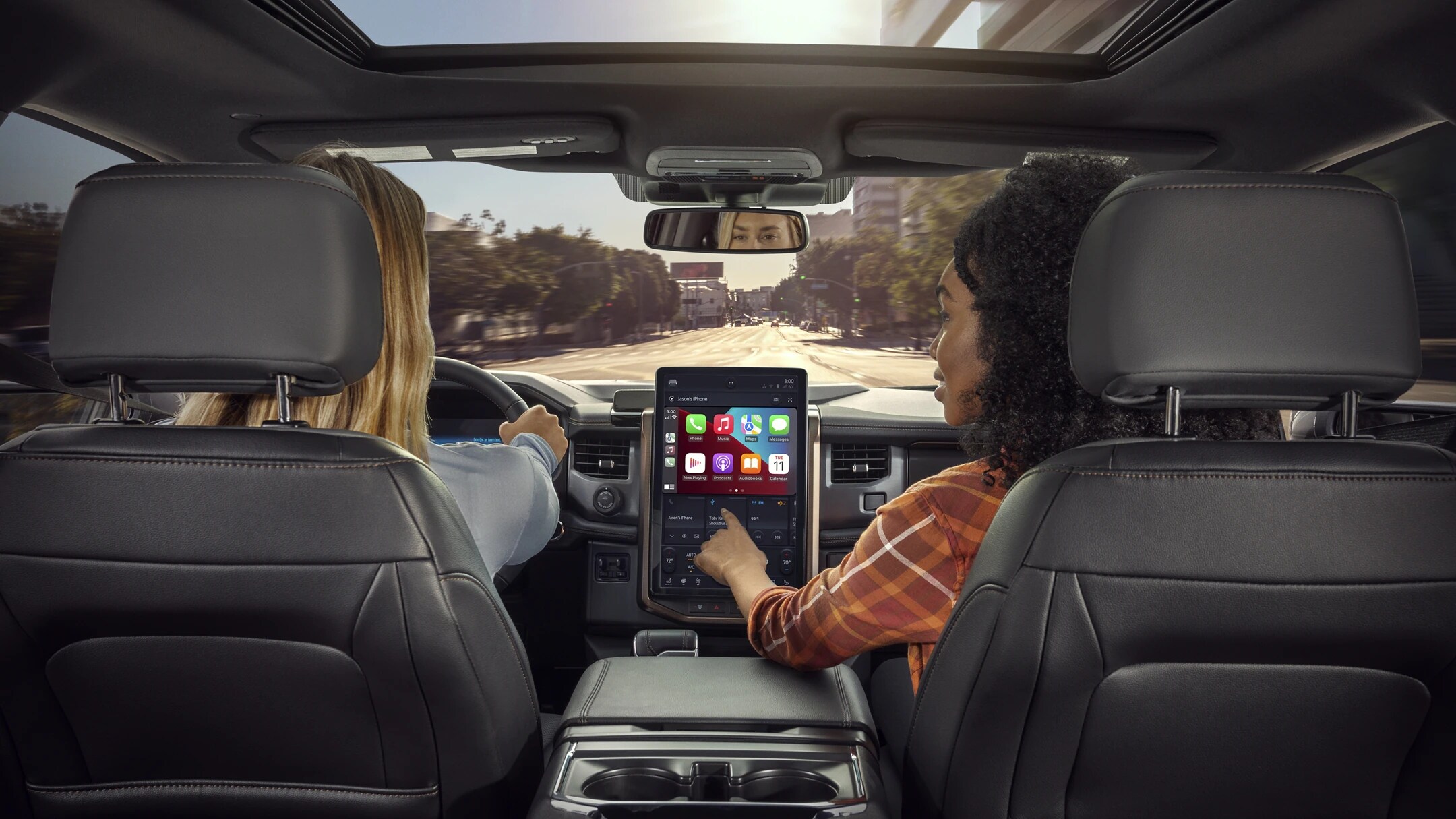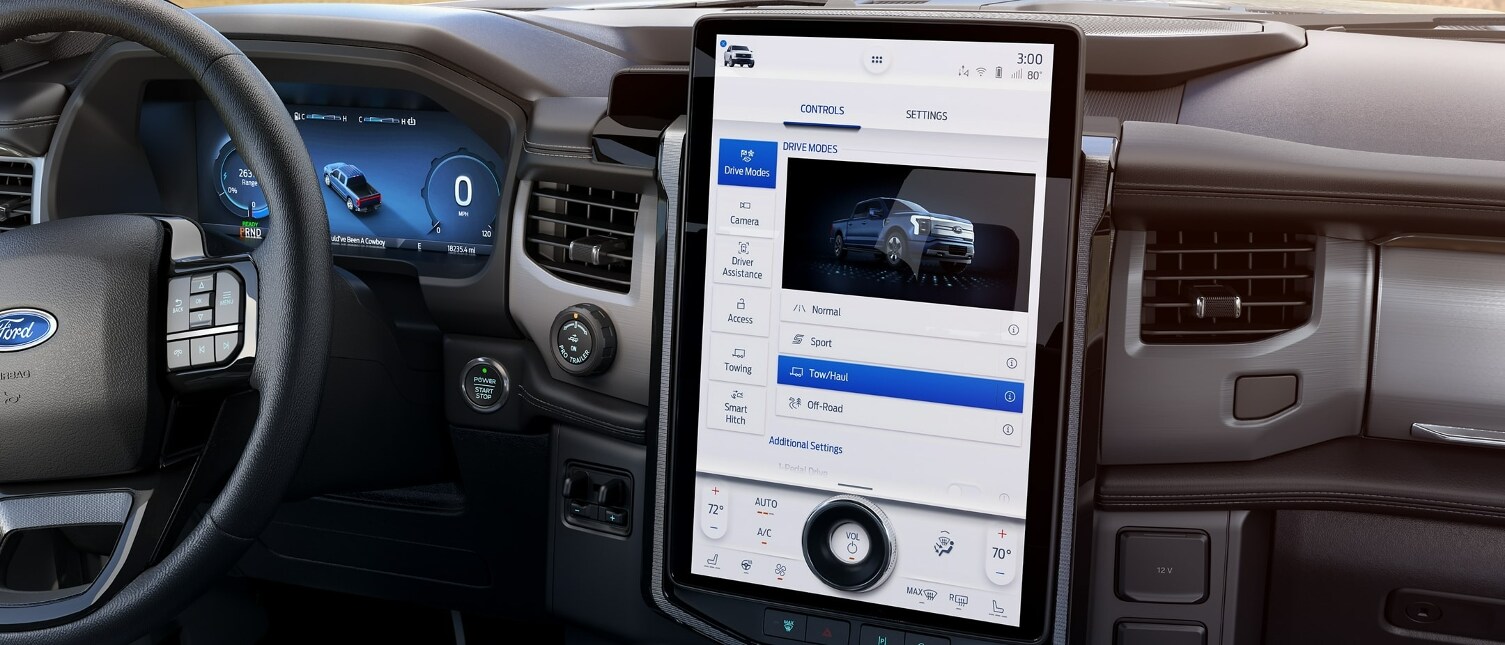 AVAILABLE SYNC® 4A WITH 15.5-IN. TOUCHSCREEN
You're constantly in touch with this latest generation of SYNC®. Cloud-based connectivity with voice recognition, Connected Built-In Navigation (3-years of service), traffic and weather updates and more. Standard on LARIAT and Platinum.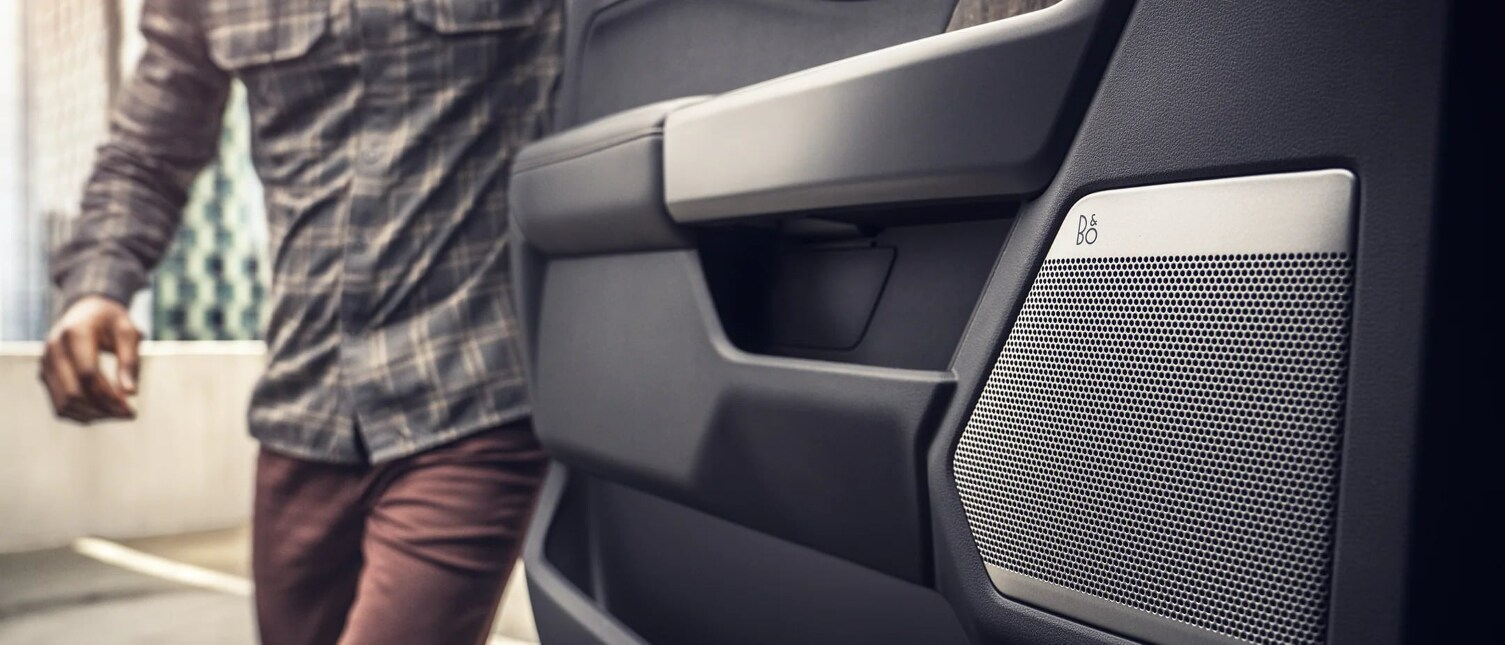 B&O SOUND SYSTEM UNLEASHED WITH HD RADIO
Available B&O Sound System Unleashed pumps 640 watts with 8 speakers or 1,080 watts of power through 18 speakers, including headrest and headliner speakers, for a sound experience you feel to the core.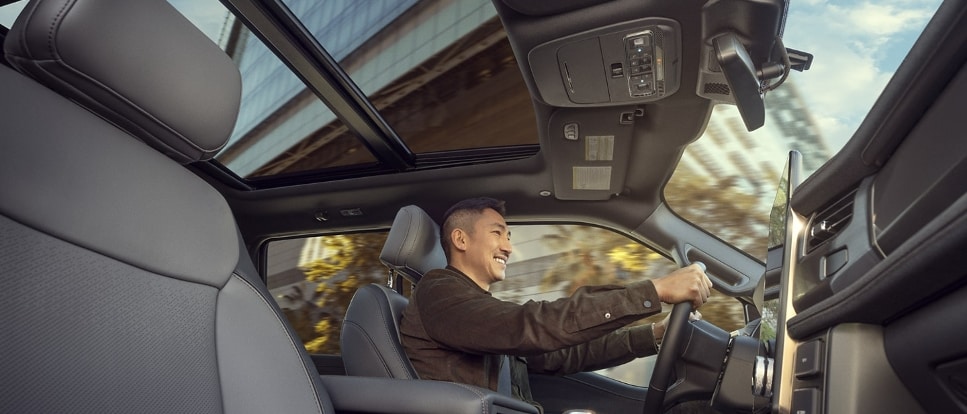 FORD CO-PILOT360™ TECHNOLOGY
Sometimes it's just you and your F-150 Lightning™ out there. Smarter than ever, the F-150 Lightning™ has your back wherever "out there" is, looking out for you whether you're towing, changing lanes or finding a spot to park. The advanced, purposeful technology and capabilities help keep you in control while getting it all done.