Newton Ford Escape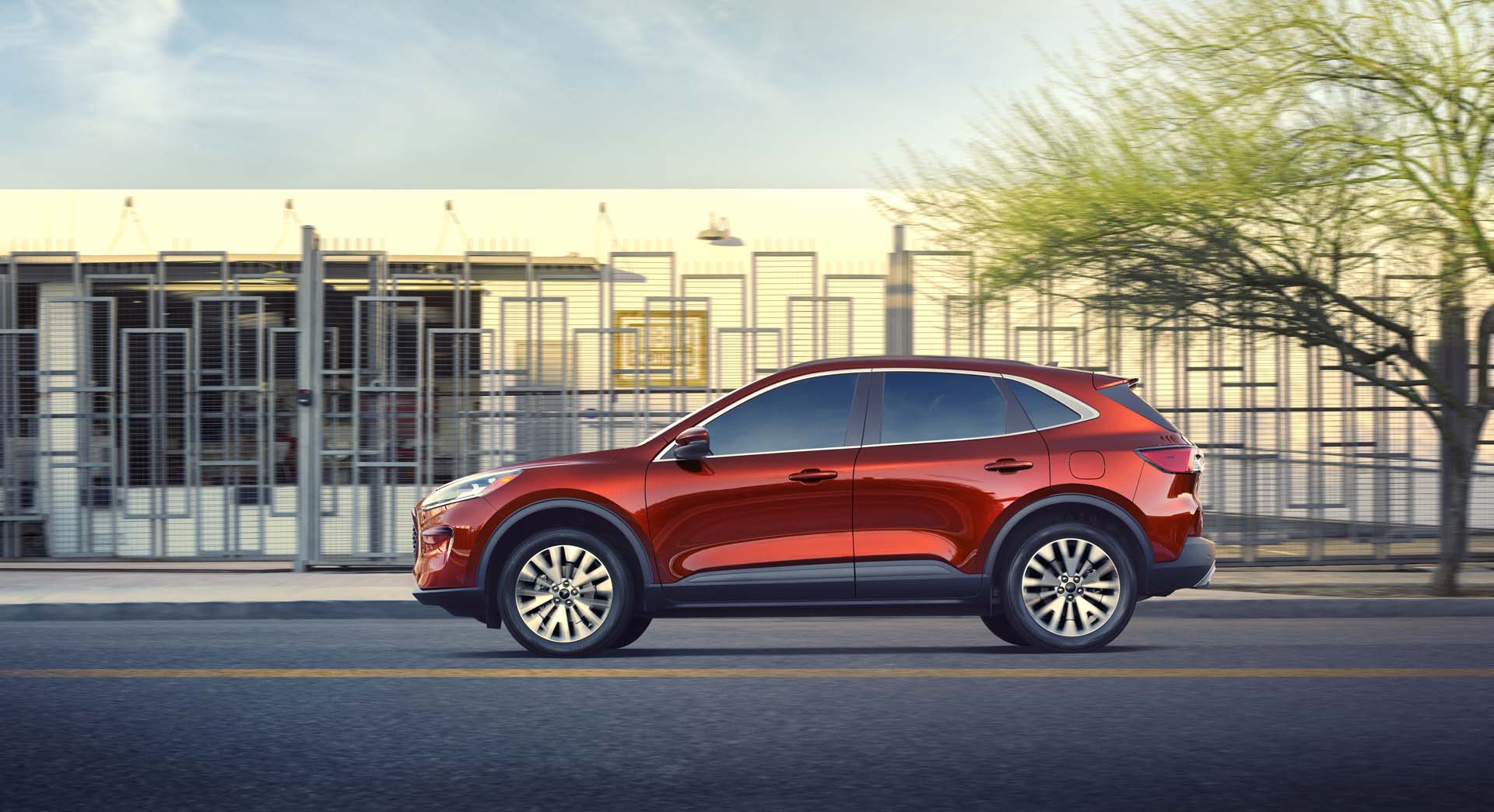 The Ford Escape is a star performer in a crowded compact crossover class. It offers decent cargo space, appealing engines, a nice line of technology features, and a modern safety profile. It also offers an upscale interior and a well-balanced ride. In short, it ticks all the boxes when it comes to sport and utility. When you throw in its ample passenger room and an engaging driving experience, you have a clear winner. Whether you are looking for a commuter car, a utilitarian daily SUV, or a primary family vehicle, the Escape has everything to meet your needs. For the money, only a few SUVs in its class can match what it offers.
View Ford Escape Inventory
Conklin Newton Ks Ford Dealer Serving Newton Kansas, Hutchinson Ks and Wichita Kansas Areas
Ford Escape Key Benefits
- Powerful and efficient turbocharged engines
- Strong fuel economy
- Responsive and smooth driving dynamics
- An impressive list of standard and premium features
- Modern safety profile
- Quality and upscale interior
Ford Escape Interior and Features
If you are looking for a compact SUV that offers an upscale interior with plenty of soft-touch materials, then you should consider this vehicle. Its high-quality interior is also easy on your elbows. Controls are within easy reach while the improved sound insulation means you can ride in comfort and luxury. Seats are wide and comfortable, with sufficient headroom and legroom for all occupants.
Cloth upholstery comes standard, although you can upgrade to power front seats, leather upholstery, a heated steering wheel and heated front seats. Standard interior features in the Ford Escape include automatic headlamps, a rearview camera, MyKey feature, a six-speaker audio system and a voice-activated SYNC infotainment system. Optional features include dual-zone automatic climate control, panoramic sunroof, customizable colored interior lighting, a 110-volt power outlet, a proximity key, push-button start, and rain-sensing windshield wipers. Others include remote start, a 9-speaker audio system, satellite radio, a 10-speaker stereo system, and navigation.
Ford Escape Performance and Handling
The Ford Escape offers you the option of choosing from three excellent turbocharged engines. Most people prefer the turbocharged diesel engine since it is both frugal and powerful. The vehicle is easy to steer, braking is smooth, and it corners precisely. It also provides an engaging drive. If you intend to use the Escape for small trips around town, then you should probably avoid the turbocharged diesel engine. The turbocharged diesel engine comes with a dual-clutch auto gearbox, which feels smooth on the highway. It also saves fuel during highway driving and tends to be slow in stop-start city traffic. You also have to drive the diesel engine for at least 30 minutes at highway speeds frequently, to allow the self-cleaning mechanism of the filter.
You will enjoy driving the Ford Escape. The steering is solid, responsive and direct. The 1.5-liter engine has enough muscle for suburban driving. On the other hand, the 2.0-liter engine is a bargain for drivers who value performance. It accelerates briskly and is great for overtaking. All-wheel drive versions can handle snow-laden roads, dirt tracks, and light off-road driving.
Ford Escape Safety and Reliability
The Ford Escape comes with the mandatory stability control as well as a full-suite of airbags. Standard features include a seatbelt warning system for all passengers, rear parking sensors and a reversing camera. It also comes with an Emergency assist feature, which can call for emergency help after a crash through a paired mobile device. Every trim also comes with Ford's MyKey feature, which allows you to limit audio volume and speed. It is fitted with seven airbags.
Upper trims such as the Titanium and Trend come with auto headlights and wipers. A Technology Pack is also available in these trims. This package adds adaptive cruise control, lane drift alert and lane keep assistance, rear cross traffic alert, automatic tire pressure monitor and automatic low beams. It also comes with an Enhanced Active City Stop, which operates at speeds less than 50 km/h, to reduce chances of ramming a car ahead. It alerts you when there is an impending collision and proceeds to apply emergency brakes automatically if you fail to respond.
Final Word
Buyers in the market looking for a comfortable, stylish and capable compact SUV, with class-leading towing ratings will find an ideal companion in the Ford Escape. When compared to today's crossover SUVs, it stands out as the best. Shopping for a small compact crossover SUV can be overwhelming due to a wide range of available options. However, the Ford Escape remains a smart and safe choice. If you love this vehicle and you can't seem to settle for a particular trim, just visit our showrooms today and experience it in person.
View Ford Escape Inventory
Conklin Newton Ks Ford
Dealer Serving Newton Kansas, Hutchinson Ks and Wichita Kansas Areas
See other Ford Vehicles:
Ford F-150
Ford Edge
Ford Escape
Ford Explorer
Ford Focus
Ford Fusion
Ford Mustang
Ford Super Duty 
Ford Taurus
Ford Expedition
Ford Fiesta